Your website is one of the most valuable pieces of "brand" real estate you have - possibly the most valuable. There are a lot of ways that your website should introduce your company and product offering, but your About Page should showcase what makes your company unique. Packed with interesting details about your brand, your team, and your origin story, it is the perfect place to showcase your company's unique personality. 
There are a lot of ways to structure your About Page - we've gathered a few different examples from companies large and small to guide this tutorial. Unfortunately for most companies, their About Page is an afterthought - it's simple, general, and isn't used as a tool to further connect potential customers with your brand and products. 
Shoppers look to your About Page to build trust in their purchasing decision - either connecting with your core values, storytelling, and the magic behind your brand. This is a great place to put a face to the name, so to speak, telling your founding story and answering the questions about your company - going beyond your product details - to tell more about how your business works. 
As you grow, your About Page is another destination that will help prospective teammates understand more about your company and their potential role in its growth. 
So what should be included in your About Page?
How your company works
This is an opportunity to give your readers insight into your company's operations and supply chain, including product sourcing, community impacts, etc. Start by explaining your business model, simply, and telling the story of how your product or service is developed and who is involved along the way. 
Media mentions, awards, testimonials
For better or worse, we're influenced by what others have to say about brands and products. You can gain the trust of your audience and further develop your company's story by including

User Generated Content

such as positive reviews, press, and industry awards. This can be accomplished through sourcing online reviews, creating press releases and keeping tabs on their publication, or directly requesting customer feedback through email newsletters or social media. 
Your mission, vision, values - and any stats that support your statements
Does your company dedicate time and/or money toward charities? What are the values behind your brand? This is where you explain the feel-good aspects of your companies mission, vision, values, and include concrete information (annual employee volunteer hours, dollars donated, pro-bono work conducted, etc.) that shows how you're making an impact through your business. 
An introduction to your team or founder(s)
We all want to relate to the brands we're supporting, which is easier when we learn about the faces behind the name. Share details about your people that will humanize your company. This can be done by sharing the story of what inspired the creation of your company, your work culture, and images of your team.
Links to your social channels, a sign-up form for your email newsletter, or other calls to action
Allow your readers to continue building a relationship with your brand and/or learn more about your product or service. In addition to social media and email newsletter links, you can direct them to your blog, product pages, company job postings, and other relevant information to continue their journey. 
Okay, great, but where does this information come from?
You can refer to your Margo dashboard's Architecture tab to start gathering this information (or start a free two-week trial). If you aren't using Margo yet - no worries - we'll break down the basics and guide you through it. First, let's check out some examples - you might find that there are elements you can adapt to fit your business's About Page. You don't need to be intimidated by the elements included here if you don't have the technical infrastructure or company maturity to build them yet - we all start somewhere, and it's better to start today and grow as you go.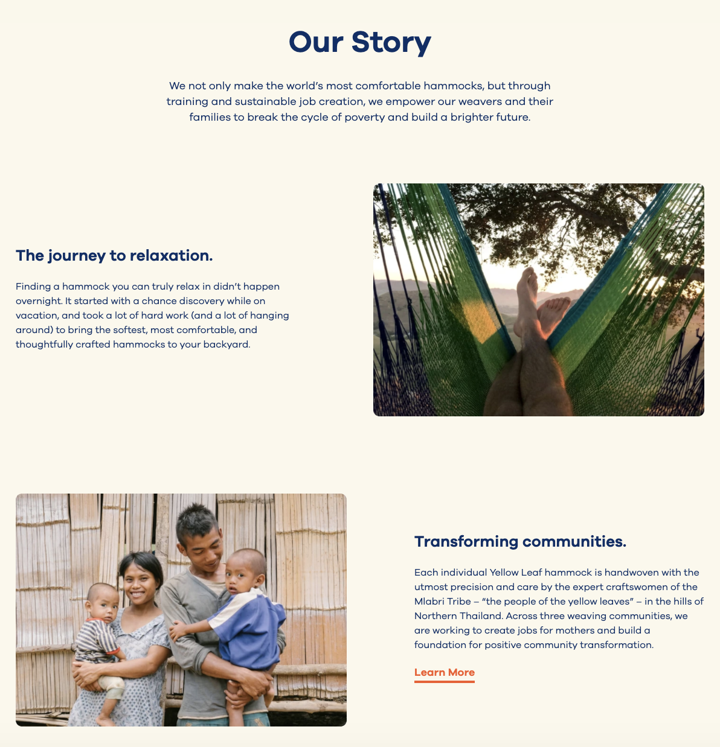 Yellow Leaf Hammocks' About Page continues to tell a story of how they're impacting communities by empowering weavers and the origin of their business idea. Their method of storytelling evokes emotions that make customers want to purchase their products and contribute to a brand that is providing opportunities through their product sourcing. 
MilkRun

- Descriptive & mission-forward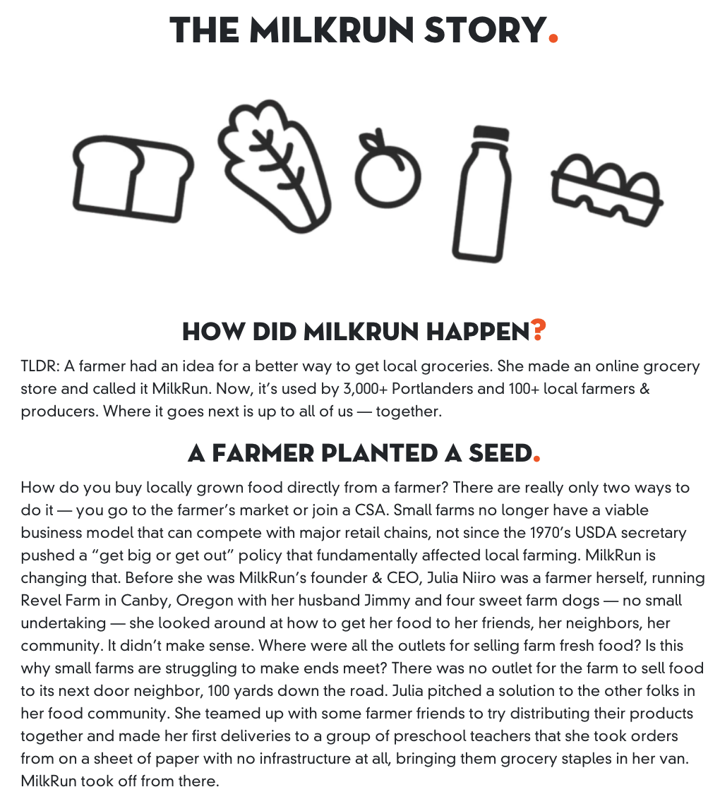 MilkRun's About Page explains the why behind their business - they wanted to provide consumers with a way to "buy locally grown food directly from a farmer." Their story continues with the development of their business and why they're on a mission to build a localized food system that directly connects farmers to consumers backed by supporting statistics. 
Refinery29

- Summarized the company and clearly defines its mission, etc.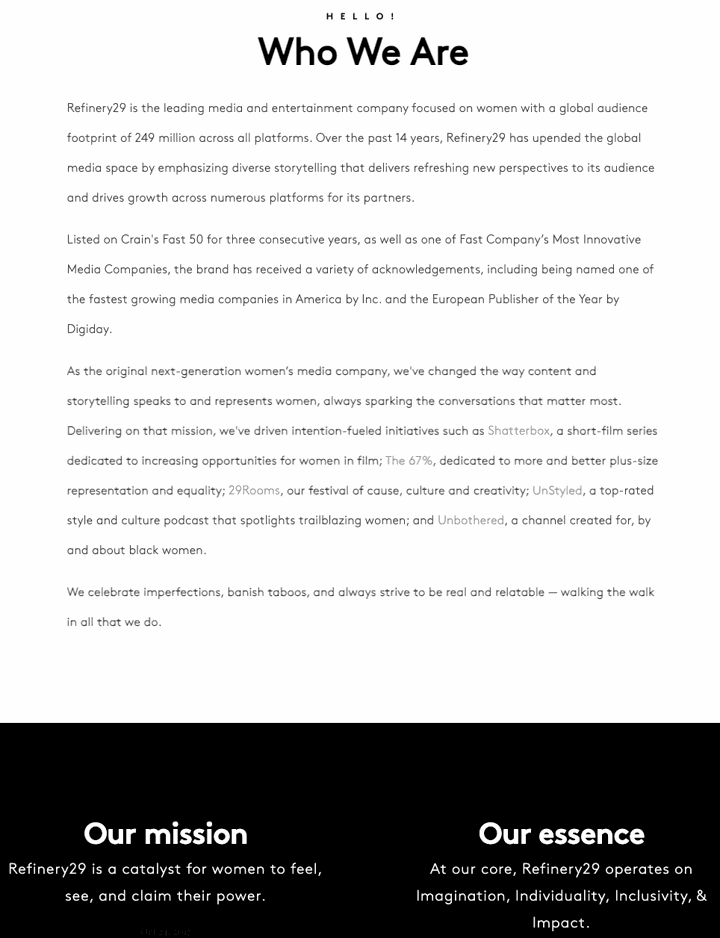 Refinery29 is a women-centric media and entertainment company. They include industry awards and relevant statistics on their About Page that help support their mission statements about how they're changing the way their industry represents women.
Tillamook

- Product-forward without coming across as hyper sales-driven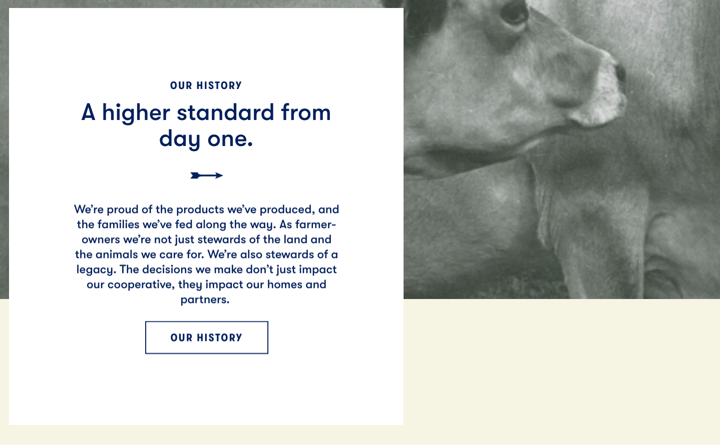 Tillamook is a dairy company that prides itself on its farmer-owner company structure. They speak to how their history has been shaped by their impacts on the industry. This provides a feel-good connection for readers who look to support the people and cause behind a brand.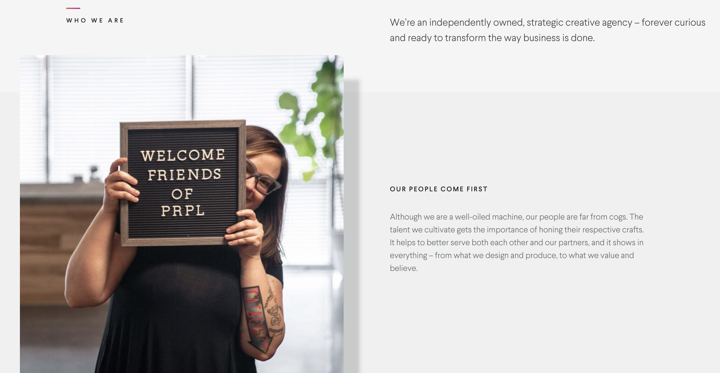 Purple Rock Scissors is a creative agency that uses its About Page to highlight the people behind the brand. This strategy allows them to humanize themselves while incorporating people-first values into their messaging. 
Ben & Jerry's

- Great interactive timeline of the company's history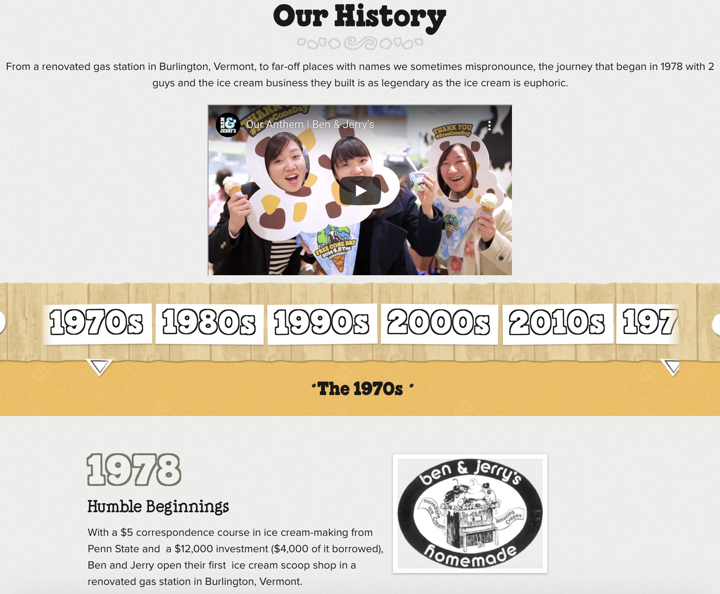 Ben & Jerry's uses its About Page to document its history in a fun, interactive timeline. Throughout their timeline, they incorporate statistics and awards that showcase how their products have developed and how the company has positively impacted communities and charitable organizations over the years.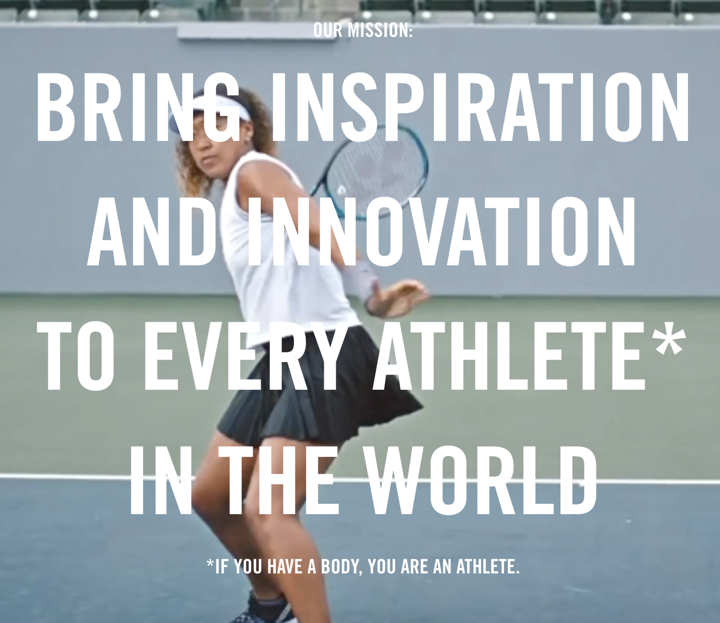 Nike highlights their mission statement in a hard-to-miss way while an inclusive video showcasing various athletes plays in the background. They continue with direct mission-driven statements about their product innovation, sustainability, social and community impacts, and the team behind it all. 
Klur

- letter from the founder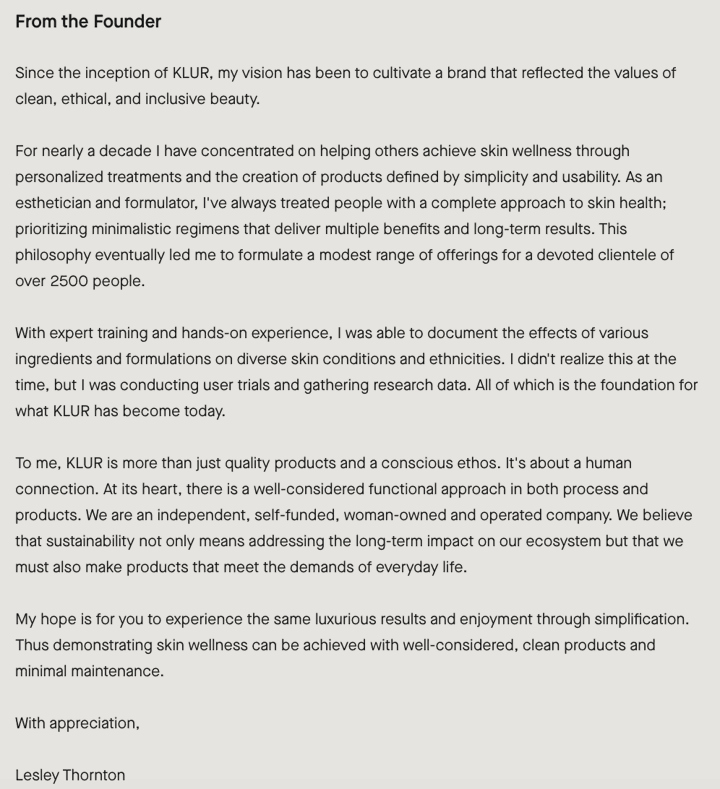 Klur's founder tells the story of their journey to create "clean, ethical, and inclusive beauty" products, which directly relates to their stated values. They continue to write about their brand's ethos and details of their product journey through user trials and research data. Including this first-hand story from the founder helps connect the audience directly to the brand.
---
Subscribe to get trainings in your inbox
Get free trainings like this, including subscriber-only tools and freebies, in your inbox each week. Add your email below 👇