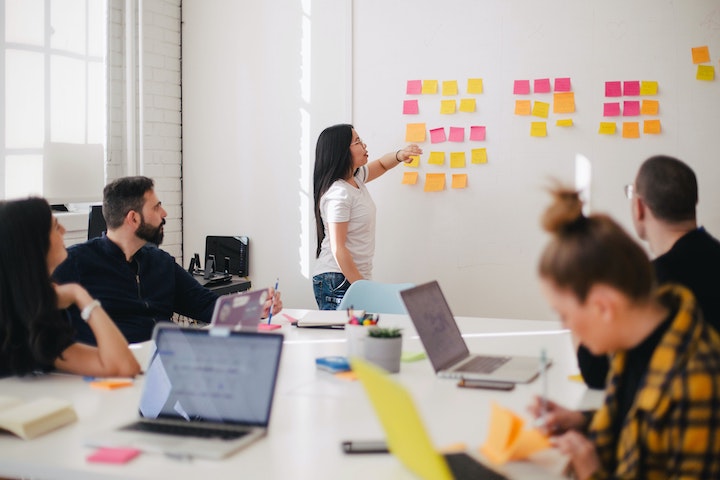 Some entrepreneurs, startups, and SMBs need a clearer definition of "fractional CMO." Likewise, some may be unaware of when a fractional CMO can help the most.
A need for marketing presents owners, startups, and SMBs with a binary choice. Is it wiser to hire in-house or leverage a third party?
The choices are followed by the usual pro/con discussion; it's convenient to have an expert on staff but it's economical to use a third-party's services... and so on...
However, a fractional chief marketing officer is another option, often overlooked yet more effective when understood and used effectively.
What is a Fractional CMO?
A fractional CMO helps with growth, acquisition, and development. Used on a part-time or project-based basis for some, a fractional CMO is an indispensable, permanent solution for others.
A fractional fulfills the role of a traditional chief marketing officer. It's a leaner, more timely, and cost-effective way for a small business to compete with larger, more established brands.
But, you want to know the value of a fractional chief marketing officer, right? Here's why the fractional CMO option is gaining more attention in the digital age:
A fractional chief marketing officer breaks the binary mold in hiring a full-time staff member or using a marketing service. Make a fractional CMO what you need one to be at the times you need one.

Throttle your marketing resource for optimal performance. Startups or small businesses may lean heavily on fractional CMOs while established brands may rely on a fractional CMO for particular projects or marketing channels.

Avoid information overload and distortion. Allow those with experience and wisdom to distill marketing information. Even better, get suggestions from those who know your business rather than those who use your hopes to boost their own sales.
Further Reading: Why a Fractional CMO Makes Sense for Small Business
Fractional CMO Scope of Work
Work performed by third-party marketing agencies can be subpar. Or, details get lost in translation when communicating with larger partners. You define the role of your fractional chief marketing officer.
The process starts with an initial assessment.
Get an Assessment
Should your startup be doing a better job in using Twitter? Do you even need a Twitter account? What kinds of things should you post on your blog? "Marketing" is a vague term. Your startup is unique. Moreover, what's required to get your startup off the ground may change throughout the year. You need organization through an initial analysis.
Start the fractional CMO process with an initial assessment. The fractional CMO dynamic allows for agility in using resources in a customized way. An initial assessment provides you with an understanding of the kinds of resources you have and where and when it makes the most sense to use them.
Use a Template
Some 'experts' scoff at the thought of using a homogenized template to inform business decisions. Yet, the most successful identify patterns and how to make the best use of time. Templates don't make businesses similar. Actually, templates serve as a place to start so you can make your business more distinguishable.
Further Reading: Free Social Media Content Template
Connect the Dots
Some entrepreneurs are incredible creators who have magnetic personalities. But, some struggle in connecting the marketing dots. Make marketing easier with customized dashboards.
Keep the ideation going. Or, ensure that your last conversation becomes implemented into your marketing and advertising. Dashboards help entrepreneurs become "doers" by lending a visual representation of intentions and breaking them down into manageable (and actionable!) tasks.
Ask for a Lifeline
No one knows your business better than you. But, we all need a lifeline from time to time. Leveraging a fractional CMO means you can get expert feedback in a timely manner. Get answers to the right questions when you need them.
People do this all the time on Twitter, Slack, and other social media channels. But, it's nice to know you have a designated and experienced expert on hand, ready and willing to target specific questions or provide feedback on broader marketing initiatives.
Embrace Your Serial Entrepreneur
You don't need to be juggling multiple million-dollar enterprises to be a serial entrepreneur. Some of us love experimenting, having "side gigs," or obsessing over growing new business ideas. A fractional CMO grants the opportunity to stop and start projects at your leisure. Don't let a great idea deteriorate. Set them in motion with the aid of a fractional CMO.
Signs You Need a Fractional CMO
You Have Budget
Congratulations! You have an actual marketing budget … but you're unsure as to how to develop an actual marketing plan that will grow your business. It's a good problem to have as long as you make the most of your investment.
A fractional CMO allows for a closer inspection of your ROI. Use resources how, where, and when needed. If things are going south, it's easier to regroup in using a fractional CMO versus hiring a full-time employee or getting trapped in a contract with a marketing service.
You Sense Money is Being Left on the Table
Your business has experienced positive metrics for some time, but you have a gut feeling there's room to grow. An outside perspective or expert in multiple marketing channels may be your company's next best friend.
They say the teacher appears when the student is ready. Perhaps it's time for your business to level up with the help of a fractional CMO. The "fractional" nature of the service informs businesses whether it makes the most sense to hire a full-time marketing officer, use a marketing service, or continue with a fractional CMO.
Your Sales Team is Doing Your Marketing
The distinguishing characteristics between marketing and advertising would make for a great online debate. But, when it comes to your business, it's important to distinguish who's best in articulating your brand's messages.
Often, it's not in the comfort zone or expertise of the owner. Even more often, it's not in the nature (or job description) of a salesperson to market the brand. Marketers serve as interpreters, understanding how to articulate brand messages. Moreover, marketers know what messages make sense on which channels for maximum impact. This is not (and should not be) the job of the sales team (or owner in some cases).
You've Never Been Here Before
Perhaps, you've never been to this stage of success before. A good problem to have, maybe you're unsure of how to proceed and would appreciate the input of those with experience as well as the wisdom of speaking to many business owners in your situation.
Just as templates are useful in avoiding the 'reinvention of the wheel,' the experiences and wisdom of fractional CMOs serve startups and entrepreneurs well in advising on how to proceed with marketing campaigns, using a new marketing channel, considering outside investors, etc.
You Can't Predict the Future
If you do not possess a superpower then you're unsure of the next pandemic, long-term absence, or immediate need of marketing assistance. Therefore, it's nice to have a process in place for unpredictable times.
A fractional CMO provides peace of mind in knowing that you have the added marketing resources when you need them - maybe when you'll need them most.
---
We provide you with the tools, resources, and dedicated professionals necessary to succeed. Peace of mind, effective marketing, and agile options are an action away. When your marketing needs get too much to handle, it's time for Margo.