When it comes to social strategy, LinkedIn is a great platform for individuals and companies alike. You can build both your personal brand and that of your company. If your company's target audience includes business professionals, then LinkedIn is a natural fit within your social media marketing strategy. 
The first step to using LinkedIn effectively is to have an updated, robust personal profile and a company page. Then, you're ready to build your network and engage in conversations across the platform. A big part of LinkedIn, or any social media platform, is to provide content that is engaging — to provide value to your followers. 
We have a basic framework to help guide the kind of content you post. It's called ACES. You read more about it in this blog post. 
Action
Community
Expertise
Sales
In this model, 90% of what you or your business shares on LinkedIn should fall into the first three categories. Only 10% should focus specifically on driving sales. This balance helps to ensure that your focus is on content that builds affinity and loyalty amongst your followers, rather than annoyance. 
Here are examples of what each category of content looks like on LinkedIn. 
1. Action
This category is self-explanatory: posts to encourage your followers to engage in a specific way with you or your company. This could mean posting a link to something that takes them off of LinkedIn like a newsletter or event sign up. But we challenge you to think of creative ways to drive engagement without making people leave the platform. Social media is intended to resemble true conversation — how can you recreate this?
A few ideas:
Ask a question 
Take a poll
Solicit recommendations 
Request feedback 
Be genuine about the conversation you're creating. Don't ask people to tag their friends or like your post simply to boost your engagement rate. Use these tactics if you truly want to better understand your followers and how they think.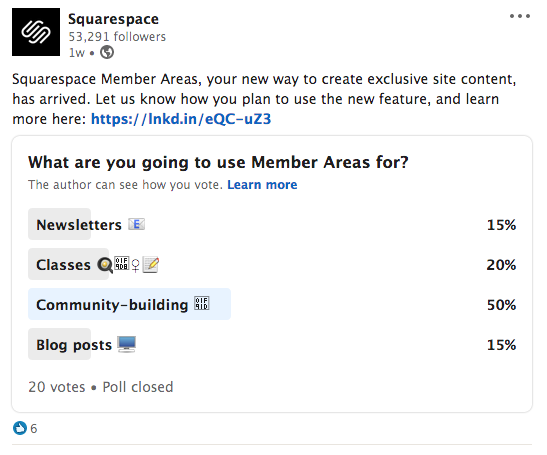 2. Community
We define connection content as posts that share personal stories and build relationships.
If you are a founder or a leader at a small business, you share a lot of the same pain points, questions, and experiences as others in your position. Sharing about these on LinkedIn can help you find a community of like-minded individuals. 
On a company page, you can share content or posts that reflect a more human side of your business, like stories from employees or customers, for example. Similarly, partnering with other businesses or individuals related to your industry is a great way to introduce your audience to something they might appreciate and expand your community to new people.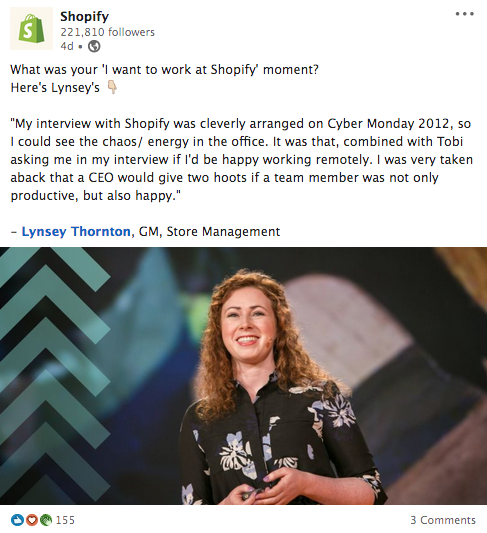 3. Expertise
This type of post is about showing your or your business' expertise on different subjects. Focus on topics that relate to you, your business, and your audience. 
You can show expertise by sharing third-party content, industry news, or your own opinion or thought leadership on a particular topic. Regardless of what you're sharing, the key is to share your own point of view and to contribute additional perspective. 
The more you practice posting expertise-related content, the clearer your point of view becomes and the easier it is to identify possible topics to discuss.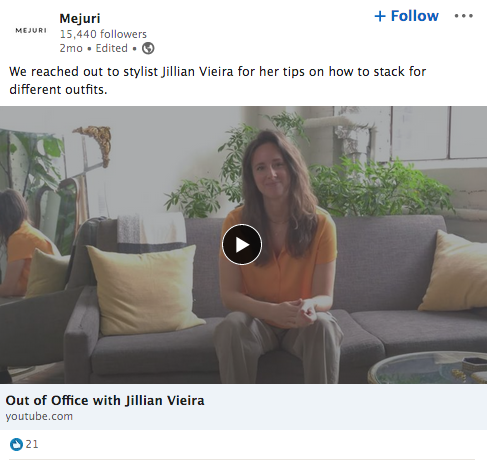 4. Sales
As we said, posts that are intended to sell your products or services should make up less than 10% of your activity on LinkedIn. On social media, softer selling tactics can often be more successful. This may mean promoting positive press, events, or gated content more often than linking to specific product or demo request pages. 
When posting something that is promotional, the same best practices apply that we have already mentioned. Be genuine and personal. Present information in a way that is relatable to your audience. Here is a great example from Buffer on a feature launch: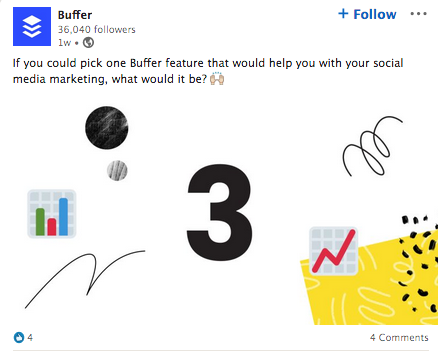 ---
If you are looking to develop your LinkedIn strategy, here are additional resources you may find helpful: