When getting started on any social media platform, you have to start from scratch. Creating a business account, profile, or page is the easy part — growing your following is tougher.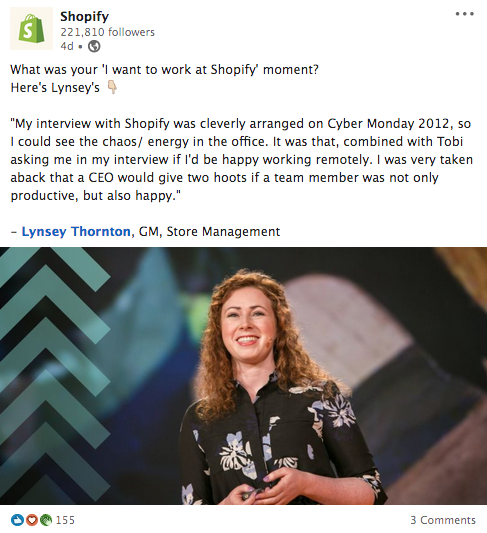 If you are a business leader hoping to expand your network and influence or if professionals are the target audience for your business, it makes sense to focus your energy on growing your presence on LinkedIn. 
You can't attract followers to your company page if the page itself is incomplete or outdated. Take the time to flesh out your page information before jumping ahead to follower growth. 
It may sound obvious, but the people who you want to follow your company page are those who are genuinely interested in your company, its success, and its expertise. The ideal follower is someone who derives value from and engages with your page and its content. Follower growth is important, but quality always trumps quantity. 
Let's find those ideal followers — here are our best tips to help you increase followers for your LinkedIn company page. 
1. Include relevant industry keywords in your company page information
Social media sites rank high in search results. Optimizing your company page for SEO will rank your page even higher. Put yourself in the shoes of someone looking for your business: what would they be looking for in order to find you? Your industry, products/services, and location are all possible keywords options to weave into your page information. This blog post from LinkedIn has more SEO tips. 
We don't recommend force-fitting keywords into your company description just for the sake of SEO. Instead, ensure that your page is complete and that the language you use is simple and hyper-relevant to the followers you want to attract. 
2. Invite existing LinkedIn connections to follow your page
LinkedIn actually won't even allow you to do this step until your page information is complete — that's how important it is to have a thorough company page. Admins of your company page can invite their own 1st-degree connections to like the company page. 
This is a great way to notify connections who are already fans of your business, including existing customers, investors, and employees. You can only invite 100 connections per month, and you can only invite each connection once. Therefore, you want to invite people who will immediately recognize your brand and accept the invite. 
3. Tag the company page in your and your employees' personal LinkedIn profiles
In your current role description on your personal profile, you can select your company page to indicate where you work. When it then displays on your profile, it is a link that will take visitors of your profile to the company page. Employees are able to do this as well. 
4. Link to your company page from employee email signatures, your website, email campaigns, etc. 
Make it easy for your audience to stay engaged with you. People that you interact with on other channels are likely to want to engage with you on LinkedIn as well.
It is common to include links to all of your company social media accounts in the bottom banner across all of your webpages, as well as on a contact page. If you have a particularly engaged Twitter audience or blog readership, make it easy for them to also find you on LinkedIn. 
5. Post compelling content that people want to follow
The best way to grow your audience organically is to consistently share posts and content that people naturally want to engage with. People will start to associate your company page with interesting, informative content and engaging conversation. 
The approach you take to your LinkedIn social strategy should be unique to your business. The basic types of posts are:
Company content (marketing content, company news, job openings, culture highlights)
Point-of-view on industry news
Open-ended questions or thought starters to foster conversation 
LinkedIn provides a lot of data about how people engage with your company posts. Once you've been posting consistently, you can look at your analytics page to see if there are any useful insights about what kind of content your followers like best. 
6. Leverage your employees on LinkedIn
Happy employees can be your best brand advocates. If your employees are actively using LinkedIn, their presence on the platform naturally builds awareness for your brand. 
In addition to including their current role on their profile, your employees can increase the reach of your company page by resharing its posts to their connections and tagging the company in relevant posts or content. 
7. Engage with relevant posts about your business or industry 
Outside of sharing content directly on the business page, you can also seek out conversations happening off of your page across the platform. 
LinkedIn will notify you when your company has been tagged in another post on the platform. It is always best practice to engage with any post that tags you. This could be a new employee mentioning their job change or even an unhappy customer posting about a bad experience. Regardless of the sentiment, people appreciate knowing their posts are being seen and their message acknowledged. Other people can see your engagement and feel compelled to click on your profile page to learn more. 
Beyond that, when you are editing your company page information, LinkedIn allows your company page to "follow" three relevant hashtags and will surface posts that are trending within those topics. We recommend following topics that align with your target audience. The more specific you can be, the more likely the content will be something with which your company should engage. The best way to engage with one of these posts is to add a new perspective and share valuable expertise, rather than promote your own brand. 
---
There is no magic pill to increase your followers on LinkedIn. Consistency is key when it comes to follower growth on any social media channel. Figure out what makes your audience tick and continue to provide them with the content and expertise they value. Audience growth should follow. 
Unsure how to get started with LinkedIn? Join our upcoming LinkedIn 101 workshop on January 13th.